1. Work the butter
For the most tender​ ​Scones​, use very cold butter diced into 1/2″ chunks. Work the butter into the flour gently but thoroughly with your hands or a ​pastry blender​. For flakier scones, flatten the chunks with your fingers as you go. The finished mixture should be unevenly crumbly, with some of the butter remaining in larger flattened piece.
2. Bring the dough together
Whisk together the eggs, milk, and vanilla, and pour over the dry ingredients. ​Using a ​bowl scraper​ or spatula, quickly but gently fold everything into a cohesive mass (with perhaps a few floury/dry spots). Avoid over-handling, which makes tough scones.
3. Shape scones
For wedge-shaped scones, divide the dough in half and shape into two 5″ to 6″ rounds about 3/4″ thick. Place rounds on a parchment-lined baking sheet; you'll cut them later. For freeform ("drop") scones, scoop 2″ balls of dough onto a parchment-lined baking sheet, spacing them at least 1″ apart. For details on both methods, see​ ​an easy way to shape scones​.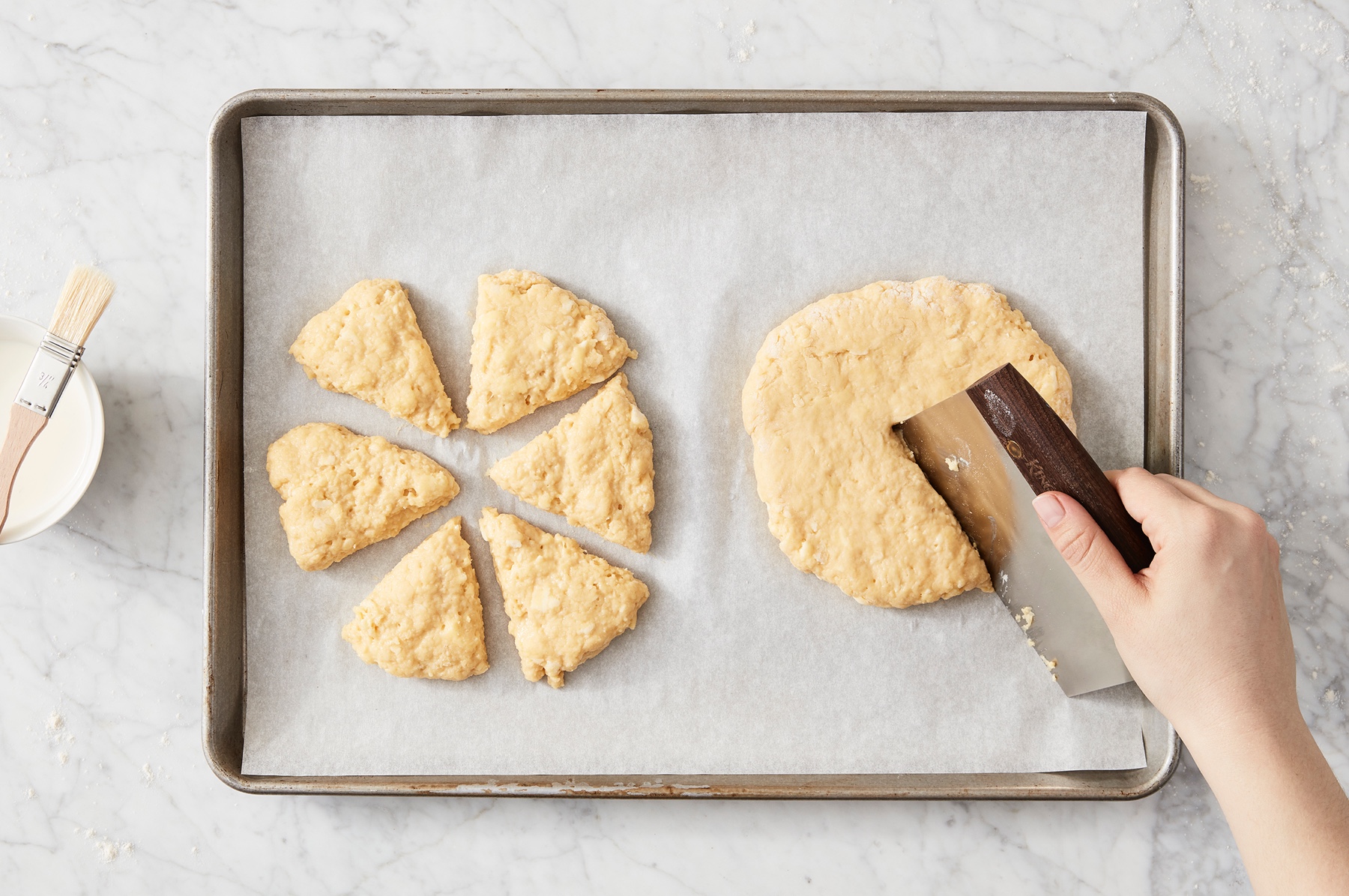 4. Prepare scones for baking
For best browning, brush rounds (or drop scones) with milk or cream before baking. For added crunch and flavor, top with sugar (granulated, turbinado, or sparkling) or cinnamon-sugar. Cut each round into 6 or 8 wedges; a ​bench knife​ works well here. For soft-sided scones, leave wedges close together; for crispier scones, separate wedges slightly (about 1″ at their outer edge).
5. Bake scones
Bake scones in a 425°F oven for 18 to 23 minutes​, until they're a very light golden brown. Don't over-bake; dark scones will be dry. Break one open to check for doneness: the interior shouldn't appear doughy or wet, but should feel nicely moist. Remove scones from the oven and serve warm; or cool completely on a rack before topping with any optional glaze.